Localize Games to Best Fit with Chinese Gamers
China is a market that ever shows a strong desire for local language, local theme, and local payments, and proper localization and culturalization is thus a key success factor for apps and games in China.
With deep expertise in China local android markets and proven track record in multi-platform development and localization, also with strong network and relationships with China local app stores and channels, AE Mobile can successfully bring your mobile game apps into China.
Services and Capabilities
AE Mobile provides game developers outside of China with a one-stop localization solution to tapping the China market.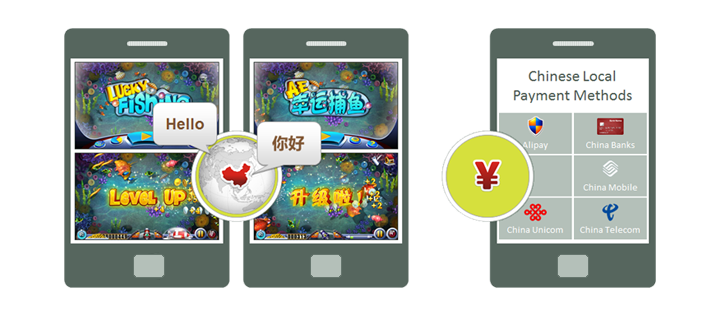 Language Localization

- text and graphics translation into Chinese

Cultural Localization

- incorporated within game features such as outfits, avatars and virtual items

Local Payment Methods

- integrate Chinese local payment methods for better monetiation in China

Two development centers in Hangzhou and Xi'an

- provides technical support for any necessary localization and culturalization
Expected Benefits for Game Developers
Significantly shorten time to market

Boost hit rates and chances for success

No need to build out own China team

Use of AE's professional developer and graphic artist resources
Localization Examples