Get Your Games Published Globally
AE Mobile provides you with a whole new opportunity for monetization in Windows Phone Marketplace globally. Through partnering with AE Mobile, you can look forward to opening up a new revenue source. As a globally ranked No.1 developer and publisher in the Windows Phone Marketplace, AE Mobile will leverage its visibility and profile to ensure your games' success.
Business Model
Revenue Sharing

(New risk-free revenuesource)

Game Developers

Porting & Publishing

Global Windows Phone Marketplace

Provision of quality mobile game
Comprehensive Solutions
Comprehensive customized solution reduces risk, increases monetization opportunity, and optimizes your offering for the China market. AE Mobile performs all these steps and requires zero additional effort from game developers.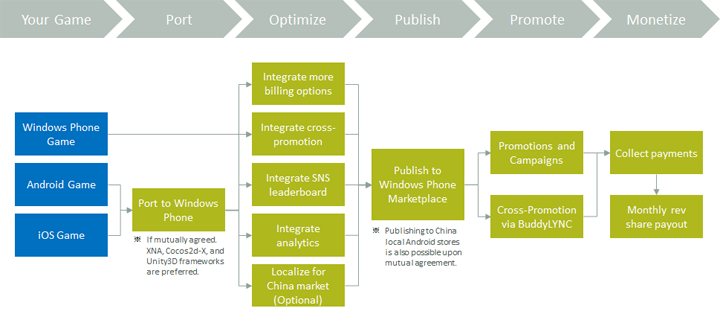 Individual Service Offerings
Depending on individual needs, AE Mobile can customize services as required.
Porting, optimizing, and testing

Stores submission and management

Payment distribution

Marketing and operations (customer service/social network)
Expected Benefits
For Game Developers
New incremental revenue source at no or low cost.

Leverage AE Mobile's strong Windows Phone knowhow and influence.

New platform opportunity on Windows Phone Marketplace globally.
For AE Mobile
Create a virtuous cycle of publishing and working with quality games beyond self-developed titles.

Opportunity to build a long-term strategic relationship with game developers worldwide.
Marketing Examples
AE Mobile provides the best way for games to be effectively advertised to the world. Below are examples of one of our successful marketing methods for cross-promotion, where games are marketed by other games for free or at low cost and in return each participating game will also be a channel to promote other games, thus building a win-win network.
AE Mobile's Strength in Windows Phone Eco-system
AE Mobile is the global no.1 developer and publisher in Windows Phone Marketplace.